With the recent announcement by Auckland Council that they will be using an Anaerobic Digestor (AD) to process the unwanted food collected kerbside from Auckland households for the next 20 years, I think it is crucially important for the future of this city (and the rest of New Zealand's towns and cities) that we talk about why they've got this wrong. 
I am a fan of collecting the unwanted food from Aucklanders who don't already compost or worm farm it themselves, but this incredibly valuable material must be used to create compost and grow food in the city, not electricity and "liquid bio-fertiliser" outside the city. 
I want to see an urban network of community composts that create commercial composting conditions (that means they are well managed and generate higher heats than your common home composts meaning much quicker composting outcomes) in every neighbourhood in Auckland. These compost sites would be connected to, or situated on, community farms practising regenerative farming methods. In 2014, researchers at the Rodale Institute estimated that if current farmland shifted to regenerative organic practices, 100% of annual global CO2 emissions could be sequestered in the soil. How we grow food will dictate our future.
This urban network of composting and regenerative farming would:
restore our soils;

sequester carbon;

increase biodiversity;

reduce soil erosion and run-off;

connect communities;

educate the public about the real world and how food is grown;

increase access to real food while replacing the fake processed food that is wreaking havoc on the health of so many New Zealanders;

save our health care system millions of dollars;

create a truly circular model;

create hundreds to thousands of meaningful jobs; and,

prepare the city for the climate crisis. 
Further to this, we will reduce the use of plastics to package our food as it won't be stored on shelves for days but picked from the soil when ordered. It will minimise our food miles by growing it right next to where it will be eaten, and of course, this system will also see the smallest possible number of "compost miles".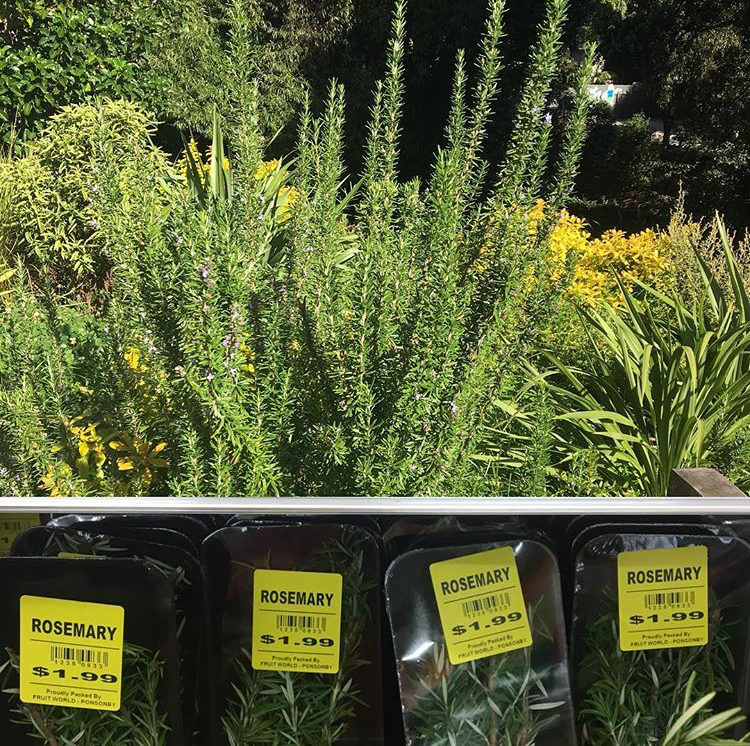 Rosemary growing in a community garden vs wrapped in non-recyclable petrochemical packaging.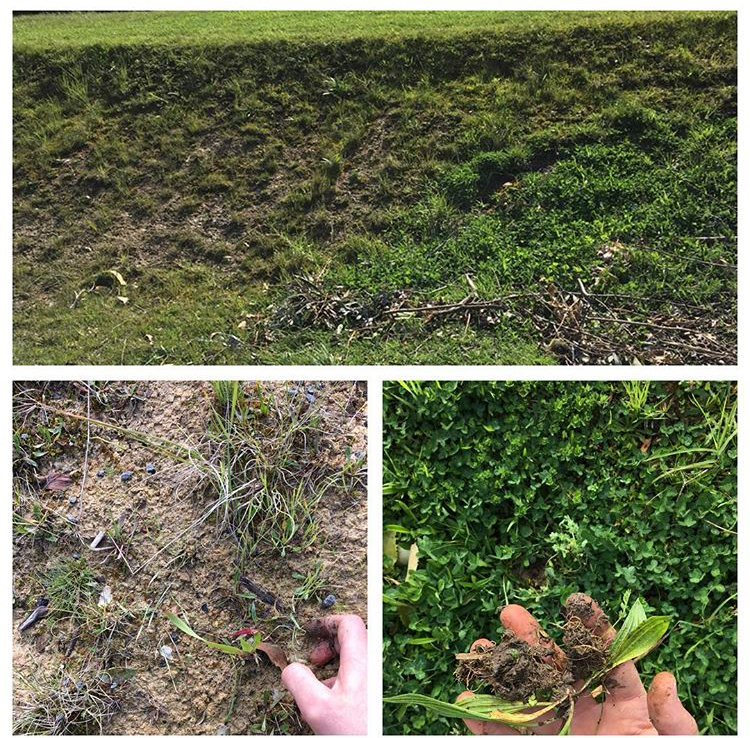 These photos were taken on Waiheke Island at the site of a Council-funded community compost trial. They show the effects of applying compost to our soils. On the right of the top photo, compost was applied to the land 4-6 months prior. You can see the grass has grown and is holding the soil in place. On the left, the soil is washing away. The bottom two images show the comparative impact on the soil close up. 
I know we all have our own opinions about the role of a city council but to me, it is about using our rates to benefit as many of a cities population as possible. How many Aucklanders are benefiting from their organic material being put through an AD?  How many Aucklanders would benefit from a hot composting facility and regenerative farm in their community?
Auckland has so much open green space available to implement this. School fields, public parks, churches, sports grounds all capable of providing small plots to grow food and compost the leftovers. And for that matter, there are huge amounts of concreted land that could also be used.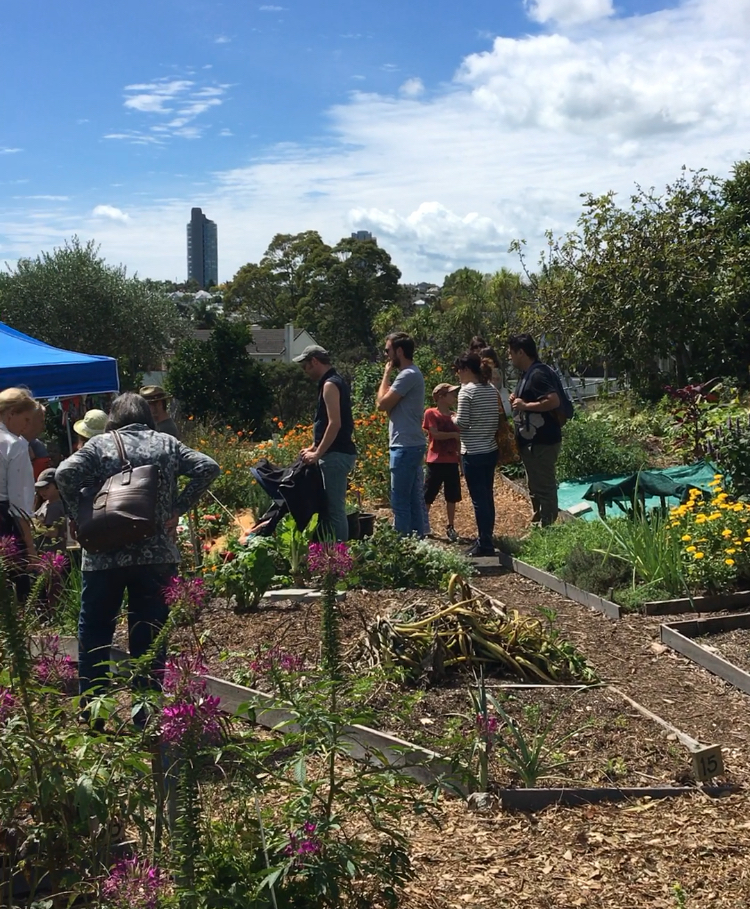 A community engaging with their local urban farm. Kelmarna Gardens.
The future requires us to think and act radically different. We have to eliminate waste, sequester carbon, prepare for climate change, sequester carbon, connect communities, provide food security, and ensure our economy is inclusive for all. And sequester some more carbon. Sending our organic materials to be turned into electricity and nitrogen-rich "liquid bio-fertiliser" is not going to do any of that. The decision to do this is such a HUGE opportunity missed by the Auckland Council.
The most frustrating thing for those of us with this vision is that we have been engaging with the council's waste team to try and educate them. Submission after submission, meeting after meeting we have explained the science behind composting and regenerative farming vs anaerobic digestion, and the opportunities this system would create for the city. See here for the submission I made in person to the Auckland Council Waste Minimisation and Management Panel on Friday, May 4th, 2018, in response to their 2018 Waste Management and Minimisation Plan. I was one of 4 or 5 who explained the same concept.
Throughout it, I extensively cite excerpts from C40 Cities who Auckland Council are a member of. "C40 is a network of the world's megacities focused on tackling climate change by driving urban action that reduces greenhouse gas emissions and climate risks, while increasing the health, wellbeing and economic opportunities of urban citizens."
They are quoted as saying "Recycling and organic-waste processing systems are often well suited to district-scale implementation, with the potential to create local jobs and improve neighbourhood resilience."
Across Auckland City, there are groups with little or no funding who have set up composting hubs and urban farms across Auckland and invited the councillors along. But still, the Council have been fixated with diverting waste from landfill rather than making Auckland the most liveable city in the world. This is just more of the same from the "Big Truck Brigade" within the Council who continue to view unwanted food as "waste" rather than an incredibly important food source to the circle of life.
All of this while – "Our versatile land and high-class soils are gradually being lost to urban growth, making them unavailable for growing food. The loss of versatile land is happening at the same time as our food production system is under pressure to increase production without increasing its effect on the environment." (Environment Aotearoa 2019).
And here's a question we aren't feeding our soils compost, what are we feeding them? Perhaps that has something to do with New Zealand losing 192 million tonnes of soil every year (New Zealand's land at a glance: Our land 2018), and the well-publicised health of our waterways?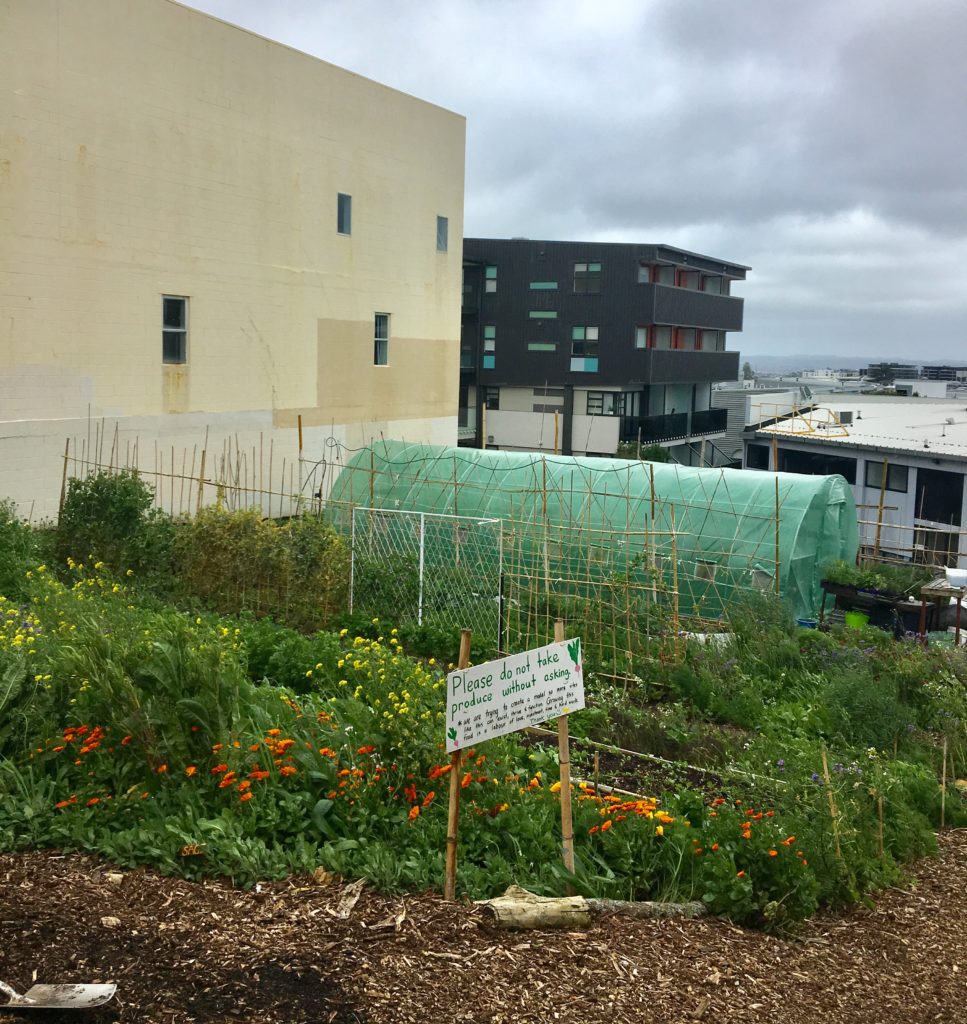 Organic Market Garden (OMG) on Symonds Street in Central Auckland. They have a hot compost hub and grow organic food using regenerative farming methods. 
I understand that the volume of organic material that will be accumulated from the kerbside collections is huge and that it will take some years to roll out the infrastructure I'm talking of. But it's the answer to so many problems. It's my hope that the council only uses the AD in the short term while it works to ensure every Aucklander benefits from the composting of unwanted food, not just the few involved in the AD system. But they did just sign a 20-year contract…
Nick Morrison
Founder/Director
Go Well Consulting