It was a much anticipated announcement for those of us who are working to solve New Zealand's inherited litter, pollution and greenhouse gas (GHG) problems. 
The New Zealand Ministry for the Environment — Manatū Mō Te Taiao, released their consultation document asking for feedback on their plan to transform our recycling system.
And gee wizz does it need transforming! 
You only have to take a look around our streets and beaches to see for yourself how much we are polluting this part of the world – every day. Or just take a look at the volume of materials that are jammed into bins once a week, all across the country, to be collected and dumped into a hole in the ground somewhere out of sight. 
It's madness, and it can not be sustained. 
The horrors of the Fox River landfill disaster in 2019 are a brutal example of the environmental  impacts we are having by following this system of burying our used resources. 
On top of the environmental costs it is inflicting, the financial costs are equally nonsensical. Beyond the cost of cleaning up our pollution (Fox River cost over $3 million), millions of tonnes of valuable natural resources, that have been ripped from our biosphere with great environmental costs, are buried in a hole every year. MfE's data estimates that over 1.3 million tonnes of potentially recyclable resources made their way into our landfills from households in 2020. 
The old-school thinkers commonly refer to these used resources as "waste".
There is no "waste" in the real world. Only resources that keep circulating round and around. 
Any byproduct or discarded resource in the real world becomes food for another organism. Commonly known as the circle of life. 
Quick side note – although it is encouraging progress to see the MfE referring to "food scraps" at times in the consultation document, they repeatedly refer to "waste" throughout the entire document. Language shapes our thinking and our culture. If we are going to design out waste, we need to stop using that term. 
At the same time that millions of tonnes of resources are being buried in Aotearoa, we have industries experiencing massive supply shortages and we are watching our planet becoming more and more uninhabitable. 
The supply shortages in the construction industry have become so bad that we are now seeing reports of a black market for building materials, and building projects slowing down or stopping as thousands of Kiwis and their families remain without a permanent safe and dry home. 
So we destroy ecosystems to get the resources then bury those resources in the ground once we're finished with them (often after only using them once), whilst we have a shortage of supplies.
I mean you've kinda got to laugh (if you're not crying) at how long the sheer ridiculousness of this model has been allowed to operate. How can it possibly be sustained?
If we want to sustain life on this planet we have to live in harmony with the real world. And every system in the real world is circular. 
So it's pretty straight forward, we have to live, trade, and do business within a circular economic system, free of fossil fuels.  
At Go Well Consulting we work with businesses to understand and face up to our collective challenges. From here we map their impacts, then design and deliver strategies for those businesses to be part of building a circular, regenerative, and inclusive economic system. 
For those of us working in this transition to a circular economy, it is well known that although recycling plays a role, it is the last and least desirable of the circular options. This is due to the energy required and the value lost in the recycling process. Ellen MaCarthur's well known butterfly diagram below illustrates this clearly.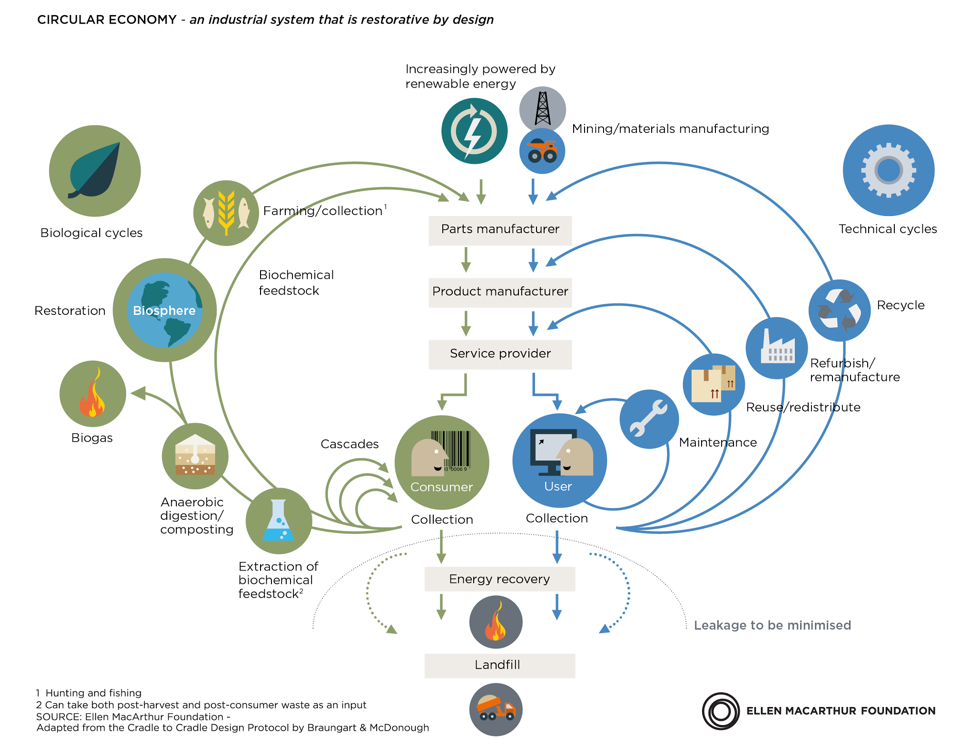 So this recycling plan must be built in a way that supports this circular future – not just the easiest, most convenient circular solution.
But let's be honest with ourselves here – while the likes of saveBOARD are exciting as they bring the sustainable future to life – there are established businesses and interests that do not actually want to change to a circular, carbon-zero economy, or plant-based diets (despite what they might pledge in their advertising). They make their profits from the linear, resource wasting, pollution generating, GHG emitting system that has been the dominant thinking in the world's dominant cultures for decades. Despite the state of our world and the near collapse of our life support systems, these businesses and the people that run them prioritise profit at all costs. 
To them, a decrease in profits is a worse outcome than a further increase in the global temperature, or the breakdown of our planetary systems. This is despite the world's greatest environmental scientists using the world's latest technology telling us we "require rapid, far-reaching and unprecedented changes in all aspects of society."
We know that there are strong and well financed forces lobbying the MfE for a plan that works for them. This is a recycling plan that does not disrupt their business models, or at least allows them plenty of time to adjust, whilst leaving them able to pay healthy dividends and maintain high business valuations. 
But for those of us who think the priority for business is to make a profit and achieve financial sustainability through circular business models and achieve regenerative impacts on ecosystems and communities, we have to also make sure our voices are heard. As such (and probably needless to say), we were very much looking forward to the MfE's recycling plan being released – a chance to jump on board and support their vision for a low carbon, circular economy. 
We expected to see a plan that would be equal across all packaging types and that would promote the circulation of low-carbon packaging into low carbon building materials. But now that we have had time to digest it, we have some points we'd like to make.
Specifically, our points relate to: 
what is being excluded from the proposed Container Return Scheme (CRS);

what is being excluded from the proposed changes to household kerbside recycling;, and 

what is being done with the food scraps from the proposed kerbside collection.
Container Return Scheme (CRS)
See the diagram below for a brief overview of the CRS, or you can read more about how it works here.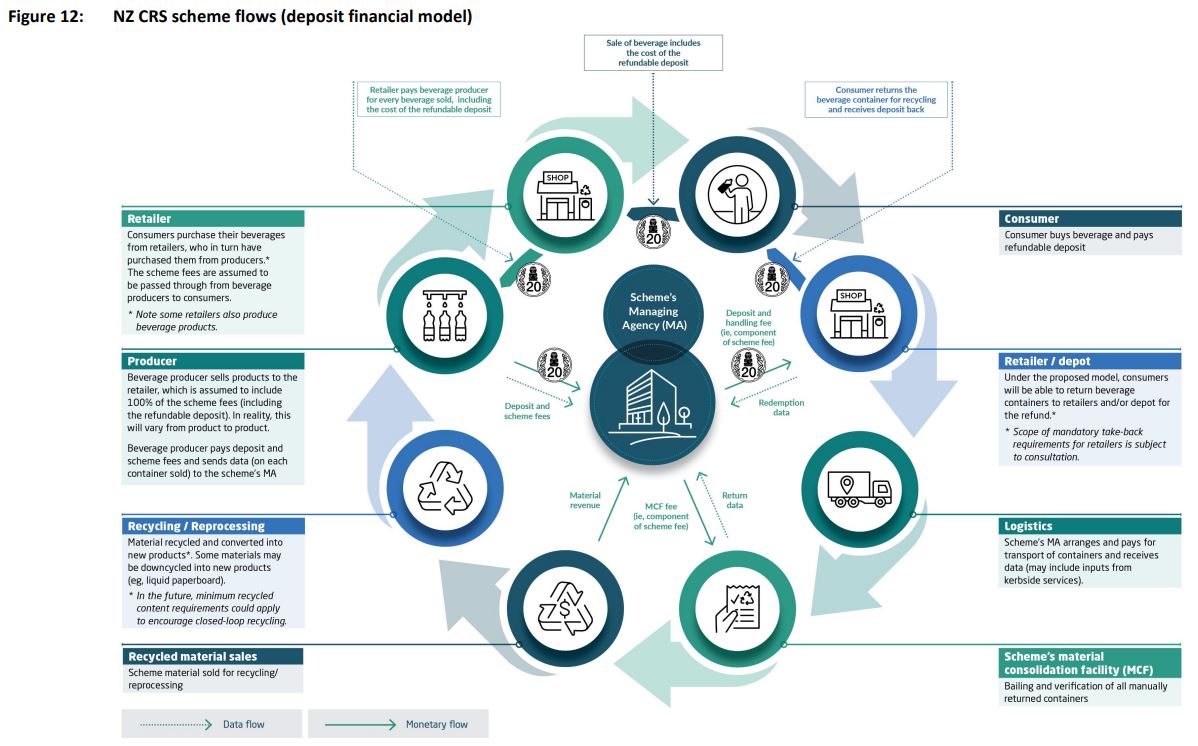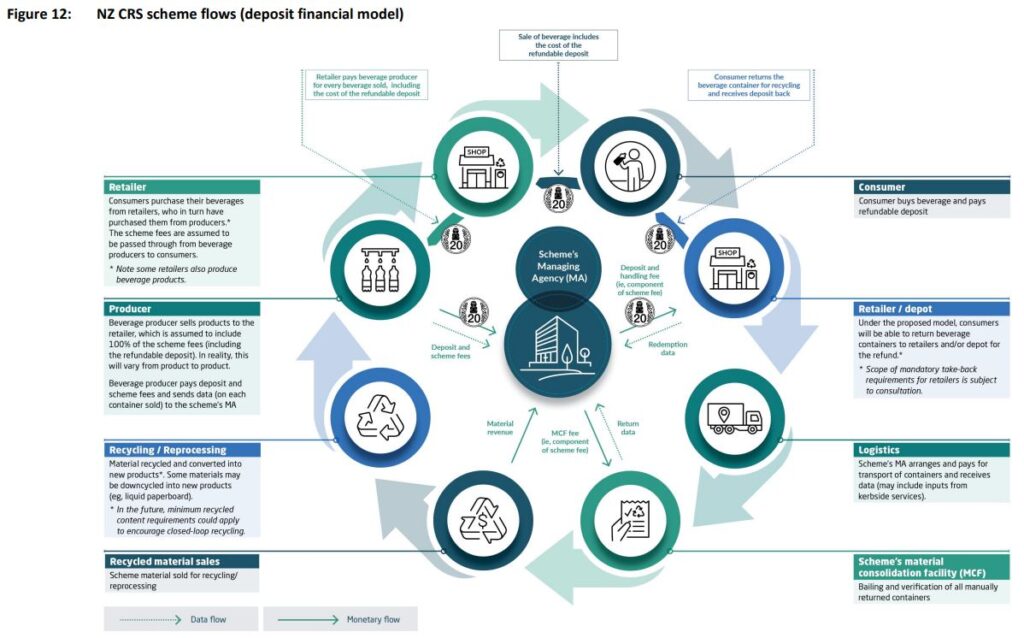 Note: In addition to the refundable deposit, non-refundable scheme fees are also included (to be paid by the product manufacturers) but not shown in this diagram. To learn more about scheme fees see the Scheme Fees section of the consultation document. 
We are huge fans of a CRS.
If nothing else, surely we have learnt that money motivates the majority of people. So if we are to get the majority of our community members to ensure the packaging resources they use are recycled back into our economy, we have to place a financial value on them. By placing the 20c value on every beverage container (we think this is the right price based on the evidence provide in the consultation document) a large section of our community, that isn't already motivated to be part of a circular economy, will become motivated. Not because it is the right thing to do, but because they get their money back. 
This is backed up by all the existing CRS schemes globally that show incredibly high recycling rates in the 80 or 90% ranges – as the MfE highlight in their document.
In addition to the refundable deposit, the CRS scheme cost (that we expect to be passed on to customers) should provide a small price incentive for people to reuse packing. A far preferable option to recycling. 
But, we are most definitely not fans of the MfE's plan to exclude dairy milk (MfE refers to it as "fresh milk") beverage containers from the CRS. 
Dairy milk containers are almost all made from 100% fossil fuels (which if we have any chance of maintaining a habitable planet must be left in the ground), and they account for a huge number of total packaging units that are moved through our economy. The idea that the largest industry in Aotearoa should be exempt from the CRS system doesn't seem right to us.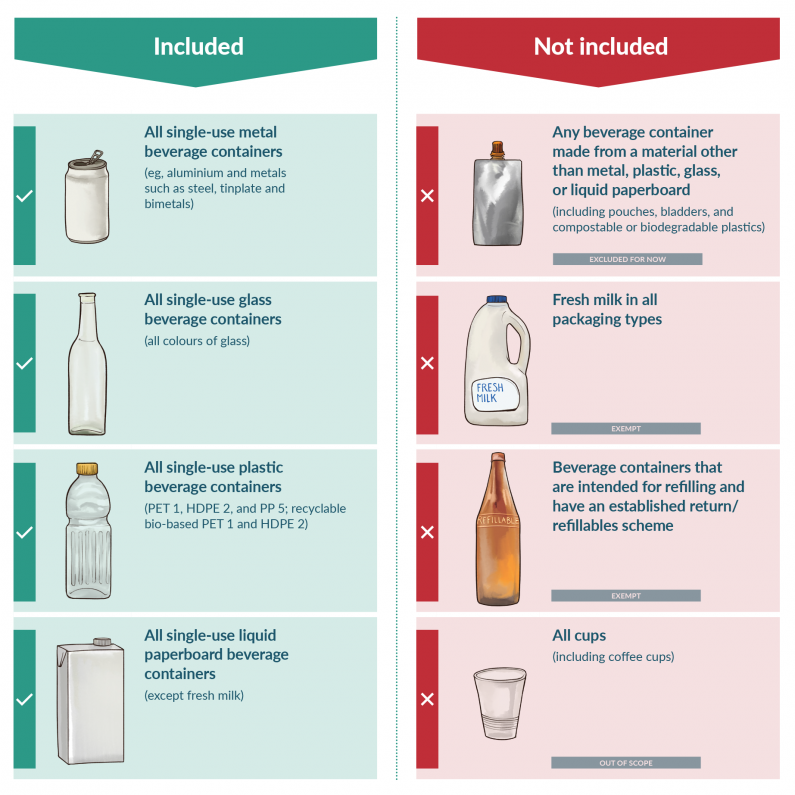 Proposed beverage containers to be included and excluded from the CRS 
It is our strong opinion that the CRS must be fair and equitable and all beverage types must be included – especially one of the most numerous that is used by our largest industry! 
If dairy milk containers are excluded they will not incur the scheme cost of an estimated 5 cents per container, or the refundable deposit. TSo these costs will not be added to the purchase price of their products providing them with a further price advantage compared to the plant-based milk alternatives which have a significantly lower environmental impact compared to dairy milk, but which are almost all packed in liquid paperboard (aka tetrapak) – a packaging type the MfE propose to include in the CRS. 
One of the reasons given in the document for the "exemption" of fresh milk packaging form the CRS is – "Typically, fresh milk is consumed 'at home' and thus these containers are
captured by existing kerbside recycling systems."
Where does the MfE think that plant-based milks are consumed??
As the plan currently stands, anyone who is following the advice of climate scientists and choosing lower carbon milk alternatives, or anyone who can not consume dairy due to health, cultural, or religious reasons will have to pay extra, and they cannot dispose of their LPB packaging in kerbside recycling. 
We are also fully in support of standardising our kerbside recycling across the country. It is a longstanding pain point for the brands we work with, and citizens across Aotearoa, that what is accepted for recycling in Hamiliton is different to Dunedin, or Invercargill, or Wellington. Not only would standardisation give brands more confidence when deciding on their packaging, it would also decrease contamination rates across the country. Finally we will all be singing the same recycling song.
But we do not support the MfE plan to exclude LPB from kerbside recycling.
LPB has the lowest carbon footprint of all beverage containers, is the packaging of choice for most plant-based milks, and in the case of Otis Oat Milk, who we work with, their LPB packaging is free of fossil fuels. The plastic in their cartons is made from tall oil (a residue from the pulp and paper production). Although we should recognise that this is not the norm. Most LPB containers contain a fossil fuel based plastic.
Further to its carbon footprint, LPB can now be upcycled into a low-carbon building material here in New Zealand by the new Hamilton based recycling plant saveBOARD. saveBOARD have overcome a multitude of challenges to set up a facility that can turn traditionally hard to recycle materials such as LPB and soft plastics, into low carbon construction materials. 
This is an onshore recycling solution that keeps resources circulating around our economy, channels them to industries that need greater resource certainty (i.e. construction) and drastically lowers the associated GHG emissions. This is a really positive step forward towards a circular, fossil fuel free economy. 
That is, we think it's crazy that LPB has been excluded from the MfE's kerbside recycling plan. 
Prior to writing this piece we have spoken to many different people within our network and attended an MfE webinar, and one of the major excuses given for excluding LPB from kerbside is that…it will cost too much.
It will cost too much to modify material recovery facilities ("MRF" – i.e. where our kerbside recycling goes to get sorted)) to be able to capture the LPB, and it will put extra costs on councils to have it included in their collection contracts. 
We've also heard the rationale for excluding LPB from kerbside recycling was because it would be received in volumes that are too small for our existing MRFs to viably sort.
Firstly on costs. This is the reality of facing up to and solving the problems we have inherited. We simply have to invest in the infrastructure required to make the shift to a circular, low carbon economy, now. We cannot afford to wait and be reactionary in our decisions once we are faced with the debilitating costs of an uninhabitable world. 
Besides, when you compare the $36.7 million Government investment in high-tech recycling plants nationwide announced in 2020, to the estimated cost of $5.8 to $13.8 billion required to purchase offshore carbon credits to ensure NZ achieves our Nationally Determined Contribution (NDC) to the Paris Climate Agreement something doesn't seem quite right… 
As for the low volumes of LPB – with the rapid rise of plant-based milks both here in Aotearoa and globally, as well as climate scientists desperately trying to engage more people to adopt low-carbon diets, those small volumes we see today will be very large volumes in the years and decades ahead. 
This recycling plan will set the course for how we manage packaging resources through our economy for the coming decades. We should not be designing it based on the current volumes of LPB but the future volumes! 
We would also like to champion the 'user pays' model for kerbside collections. The majority of local councils charge all ratepayers to pay for the cost of collecting beverage containers across their town or city. That's not fair on those who make the extra effort to use refillable packaging options, make their own, or are just low users of beverage containers. 
By charging individuals properties based on the volume of materials they are putting out for collection each week we would provide another strong financial incentive to reuse packaging, and make those products that come in less packaging more attractive. Which in turn would encourage packaging design to fit a circular system. 
Separation of Discarded Business Food Waste Resources
The third and final part of the MfE recycling proposal is related to the incredibly valuable resource – organic materials.
In the real world, organic materials are in a continuous circular loop. Everything grows, then dies, then decays to become food for another organism to grow. 
For decades we have been breaking the natural cycle of these molecules by dumping them into landfills where they become contaminated and release methane, a powerful GHG. At the same time our soils – on which all terrestrial life is wholly reliant –  have been degrading at a phenomenal rate. These factors compound the mounting challenges of growing food in the face of increased extreme weather patterns and events. 
Approximately 33% of our global soils are degraded, while in Aotearoa 192 million tonnes of soil is lost every year from erosion (44% of that comes from pasture). 
The good news is our food system and our diets are the biggest opportunity we have to stay under 1.5℃, regenerate our soils, rewild our environment, drastically improve public health and wellbeing, and connect communities. 
We are wholly supportive of the source separation of food scraps by all businesses, and of the prohibition of sending discarded food to landfill.
But, collecting this resource is just one part of the equation. Where and how it is processed is critical to us achieving the above. 
We strongly urge the MfE to ensure that all collected food scraps, are in the first instance, composted or fed to animal based food processing systems (e.g. worms, soldier fly, chickens) as local as possible through a combination of highly efficient community based systems and larger centralisedl sites. 
The processing of food scraps that are collected within communities should be only be processed in an anaerobic digestor as a last resource (for those who want to know more about AD see this article for a good explanation). We have far better methods for generating electricity, and we do not think a system that wants more discarded food to run is in line with MfE's stated goals to reduce the volume of discarded food. 
We must evolve our food system to one that is free of fossil fuels, and uneaten food is turned back into soil, both on rural land but also in our communities. A food system that will improve public health, connect communities, generate thousands of meaningful jobs, eliminate food "waste", and be far more resilient to the more frequent and extreme weather events to come.
We want a fair and equitable recycling plan that is fit for our future. We support the CRS and its design but "fresh milk" containers must be included. 
We support the standardisation of kerbside recycling but LPB must be included. 
We support the source separation of discarded food, but we must compost it or feed it to animal based systems within the communities it is collected. We support the prohibition of sending discarded food to landfill . 
Lastly (although not a consultation question), we ask for the MfE to stop using the word "waste". Please.
Many thanks for your hard work on this recycling plan and taking the lead on navigating our way through a complex set of challenges, and being open to feedback from this consultation process.
Ngā mihi nui,
Go Well Consulting