DELIVERING BESPOKE SUSTAINABILITY STRATEGIES
Go Well was founded to evolve businesses for the sustainable future by guiding them on the journey to a circular, regenerative, and inclusive economy. We do this through helping organisations write comprehensive sustainability strategies that identify opportunities and mitigate risks, while striving to generate prosperity for both people and planet. 
A clear sustainability strategy outlines your organisation's roadmap to a more sustainable future. This involves taking a critical systems thinking approach as you analyse your organisations social, environmental and economic challenges – then set specific, measurable and attainable goals. 
In writing your strategy you will gain a deep understanding of the local and global challenges we face, your organisation's impacts, the control and influence you have over those impacts, and a clear pathway to future proofing your business for the 21st century. This robust foundation will also enable you to start communicating your sustainability journey with confidence.
"The most successful companies will be those that profit from fixing the world's problems—not from creating them." – Net Positive, by Paul Polman and Andrew Winston
We have created a core strategy writing process that we take all organisations through who are looking for this service. We also offer "add on" modules to the beginning (stakeholder engagement) and end (communications plan) of the core process. You can choose to be taken through just our core strategy writing process – or add one or both additional modules.
Our core offering includes all the foundational elements of writing a sustainability strategy. We begin with a research phase to gain insight into your business's governance structure, operations, impacts, purpose, values, and sustainability experience. Following this, we hold two a workshops with key decision makers where we deliver a sustainability presentation before discussing fundamental concepts and diving deeper into your impacts and corresponding control, influence and objectives. Then, taking what we have learnt, we draft your sustainability strategy. Finally, over two separate discussion sessions with your key decision maker we finalise your strategy, having it ready for implementation. Where relevant, we align your objectives with the globally recognised United Nations Sustainable Development Goals (SDGs).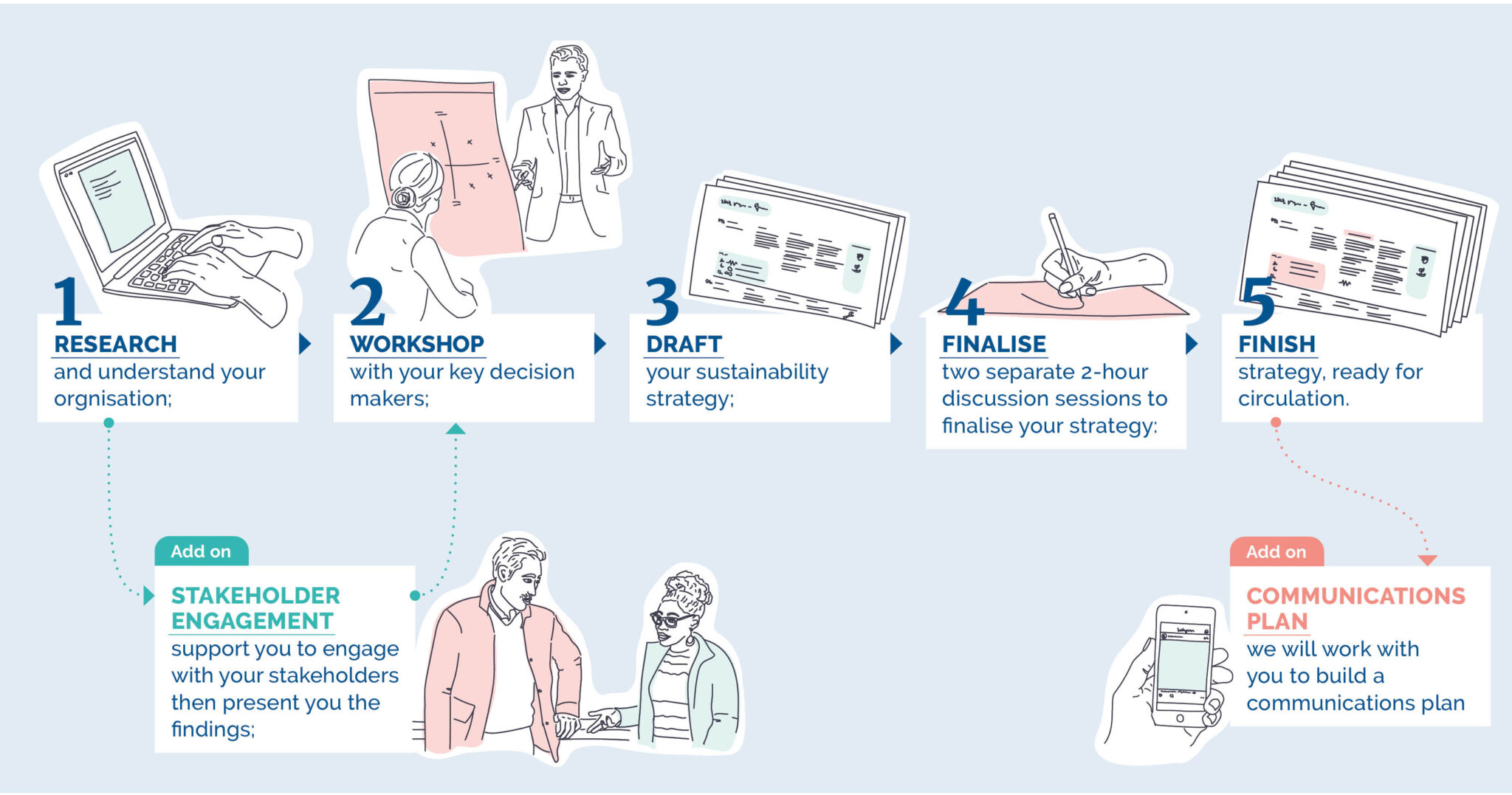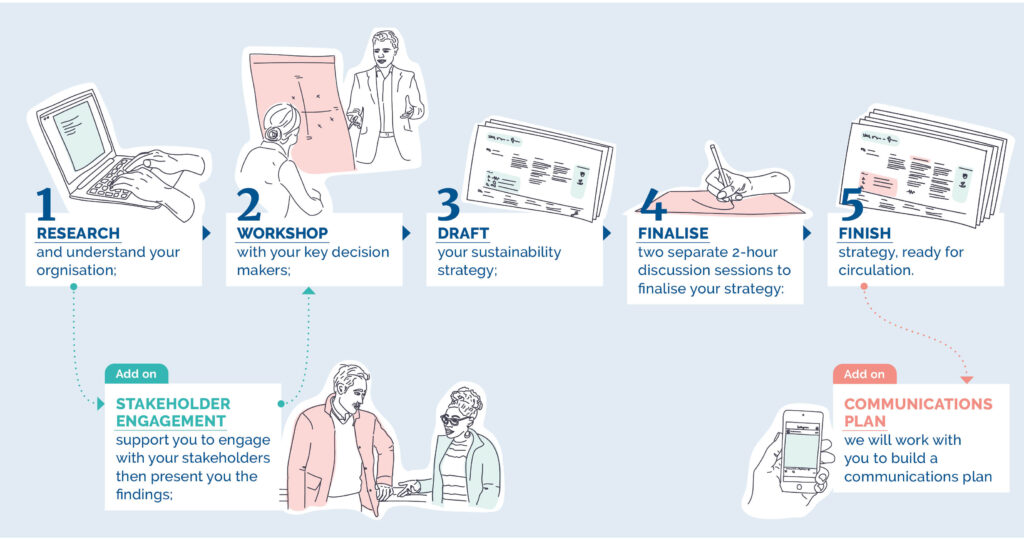 Our stakeholder engagement module will not only help inform our strategy writing and ensure it aligns with what matters to your stakeholders, it also helps achieve valuable buy-in to the strategy and the eventual changes it will influence. It grants insights on shared value creation; stakeholder buy-in, expectations and requirements; the most effective ways of communicating with stakeholders; potential sources of conflict; and the existing knowledge and appetite for sustainability. 
Our communications plan module is designed around our Communicating Sustainability Framework to provide your organisation with a plan to communicate sustainability confidently and competently. We  build the plan based on your strategy and align it with your priority objectives. It will provide you with the key topics and messages to communicate, and how to do this building reputation, trust, and credibility. 
For more information around our different offerings, processes, or pricing, please get in touch.
Some Strategies We've Written
Once having a sustainability strategy in place, many of our clients choose to engage our 'Part-Time Sustainability Team' service. This provides them with ongoing support from our consultants during the implementation phase of their strategy – helping to maintain momentum, deliver on goals and drive change. We offer a flexible and tailored approach with a range of tiers to best meet your organisation's needs.
"We developed our first sustainability strategy to help us navigate the complexities of sustainability and transparency and to ensure we had a clear roadmap to achieve our goals. We looked deep into our business to evaluate our impact, spotlight where we had the most control or oversight and then set ourselves measurable targets to achieve over the next two years."
Communicating Sustainability
Once finalising your strategy, our communication specialists are here to help you share your sustainability journey with confidence. By understanding the correct terminology to use, when to use it and how best to use it, we help organisations navigate difficult questions and amplify their ambitions and accomplishments. 
We understand that there can be hesitancy around communicating sustainability, especially if your journey is in its infancy. However, we can help you share your sustainability goals while ensuring doing so enhances, not hinders your success. 
Our consultants provide the expertise and assurance you need to communicate sustainability accurately, authentically and with confidence.
Explore our other services to evolve business for the sustainable future